Top 3 Reasons Why ExtremeCloud IQ is the Industry Leading Network Management Platform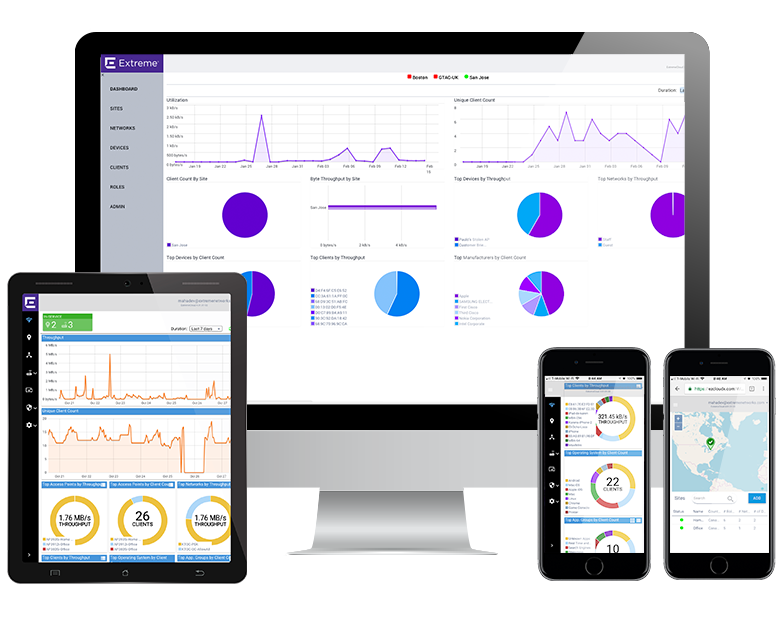 In our last blog post Cloud-Managed Networks: What is It and Why is Now the Time To Switch? we discussed cloud managed networking (also referred to as centralized network management) and explained that the key benefit of having a centralized network management system is to manage all aspects of your network in one place, which enables your IT team to do more with less, and basically make time for the work that matters. Today, we'll be discussing the ExtremeCloud IQ solution and explore the top three reasons why this cloud-managed network solution is second to none.
ExtremeCloud IQ is Extreme Network's cloud managed network solution for enterprise customers. Some of its main competitors include Cisco, HPE, and Huawei. Although each vendor's cloud managed network solution can technically centralize your network management in a single pane of glass, each vendor has its advantages and disadvantages. The right vendor selection and solution are based on your organization's current network infrastructure, system limitations and financial realities. For example, for some, it might be more cost-effective to opt for their existing vendor if they already have a large investment in their equipment, have domain knowledge of the services and products and maintain a great relationship with their point of contact.
With many vendors to choose from, here are the top three reasons why many customers choose ExtremeCloud IQ as their centralized network management solution.
1. A
bility to migrate third-party and non-cloud native and legacy networking devices
One of the main reasons many of our clients choose ExtremeCloud IQ is its' ability to migrate third-party and non-cloud native and legacy networking devices.
With the current hardware and supply shortage market severely limiting the availability of technological products , this is a key value proposition. ExtremeCloud IQ allows your organization to continue network modernization projects without having to depend entirely on new hardware. This also potentially saves you a significant reduction in procurement costs, by not having to rip and replace your existing network infrastructure.
2.
Ability to monitor and control third-party hardware
ExtremeCloud IQ's ability to monitor network and control third-party hardware means the following immediate benefits for customers:
Simplicity:

One management console for your entire network (single pane of glass) instead of multiple management consoles for different vendors, locations or environments.

Accessibility:

Full flexibility to work with all 3

rd

party APs, switches and routers.

Optimized:

Drastically reduces the time to troubleshoot, because network administrators have a single source of truth with a single management console.
3. Adopting ML technology based on big data architecture and horizontally scaled architecture
Few organizations use artificial intelligence (AI) data, data governance, analytics, and machine learning (ML) practices in network monitoring. This is because today's popular "add-on" approach to AI means we are not truly optimized for the network's massive amounts of unstructured and structured data from our access points and user usage data. ExtremeCloud IQ's ability to monitor and control your entire network enables a horizontally scaled AI to make better context and reduce noises from everyday alarms and reports. This neural network enables IT network administrators to quickly resolve well-known but overly complex issues and provides them with actionable insights.
ExtremeCloud IQ's solution extracts real value from their AI data and turns it into actionable insight, thus, it reacts to new trends, (or even spots them before they happen) and avoids data blind spots.
Agility is the future of business success. ExtremeCloud IQ continues to thrive as it is a comprehensive and mature solution that relies on a high-performing agile scrum team that takes into consideration scalability, availability, and performance.
Click here to schedule a free consultation with a network specialist to go over your current environment and see how ExtremeCloud IQ support can centralize your network management.